According to internal analysis carried out by the CRM agency Boxever, converting what is known as 'Big Data' collection into personalized marketing has generated a 20% increase in conversion rates and a 5% increase in revenue per week for airlines and OTAs. Data is everywhere – everyday each one of us creates our own unique data and thus a potential guest profile through internet searches and online and in-store purchases. For example, companies such as TigerAir, Wideroe, Atlantic Airways, and more have seen significantly improved conversion rates by marketing in such a way.
So why isn't the hospitality industry hot on their proverbial heels with what seems to be an excellent solution to several of the industry's developing issues such as the overwhelming power of OTAs?
Big data is taking off
Just 34% of industry executives asked in a 2013 BTN Group survey admitted to discussing ways to use big data whilst only 14% said they have fully embraced the concept. Based upon the statistical success that several airlines and OTAs have enjoyed, it is clear that there is an opportunity here for the hotelier to reach out and better communicate with the increasingly dominant generation of silent traveler by collecting guest data and manipulating it responsibly in order to infinitely improve the way in which they market their services.
Here are 3 main reasons why they could and should:
1. GUESTS ACTUALLY WANT IT 
The 21st Century hotel guest want to be recognized. He or she wants to be made feel as if they are an individual.
So how does this tie in with data collection?
We indisputably live in a world where personalization and individuality is celebrated. The modern traveler is no different, desiring to be treated uniquely and individually -recognized at reception and a whole lot more. Data collection is essential to achieve this.
Just how accessible is data collection for the hotelier?
Extremely.
In fact it is very easy for all to become a 'data detective', a term coined by buuteeq. Simply noting whether a guest prefers orange or apple juice for breakfast could be the first step. However, with social media quickly becoming a daily necessity – 61% of travelers admitting to posting updates on the go (SDL) – and as the 21st Century internet user begins to use an wider and wider range of different sites and sources to book, compare prices and review, he or she creates a ton of data in the process.
Obtaining access to this data has never been easier with companies such as the aforementioned Boxever and Amadeus compiling endless amounts of data to help the hospitality and travel industry better get to know their guests. So for the vast majority of hotels, there are technologically advanced methods of collecting the data of potential and current guests that are perfectly accessible and becoming more and more efficient. In addition an in-stay application offers the hotel an ideal way of observing guest preferences and adapting their service to best suit their individual guest's needs. Whilst the guest is in house, the hotel can collect and analyse not only their basic details but their interests in order to offer a more sophisticated level of personalized service.
So the means are there, but is data collection really worth it for hotels? YES!
2. PERSONALIZATION DRIVES REVENUE
The best marketing strategies are by definition targeted to a specific audience and the same principle can and imperatively should be applied by hotels when promoting their services to guests.
For example, a 40 year-old mother who visited the hotel spa yesterday is more likely to appreciate and actively respond to the offer of a spa reduction than her 20 year-old son. Likewise, he'd rather receive a special drinks promotion and the hotel know this because they have already noted that he spent 3 hours in the bar the previous evening. The necessity of differentiating between the different desires of Guest X and Guest Y is therefore of the utmost importance for hotels to effectively target and promote their services. It is important for a hotel to personalize their service both during and after the guest's stay. Firstly, to improve the quality of the guest's stay by personalizing their service and maximize revenue by offering tailored services to the client. Secondly, in order to cultivate a personal relationship with the guest once they have left the hotel and to increase the chances of repeat business, ideally via direct booking.
So how is this target marketing possible?
Once again, the answer lies with the implementation of a mobile in-destination guest relationship application such as LoungeUp. This allows the hotelier to directly push messages, reductions and more to customers specifically according to their unique guest profiles which are created by means of analyzing guest behaviour on the app.
Furthermore, if correctly integrated with iBeacon technology, the hotel's app will receive a notification if a guest physically enters the spa for example, and by analyzing behaviour through geolocalisation in such a way, this guest can then be pushed automatic communication about a potential discount on a hot stone massage. Each guest has access to information specific to them – that's the beauty of data collection.

But it doesn't have to be this technologically advanced.
With a simple scenario function similarly integrated into an in-destination app, hotels can also push reductions and promotions specific to individual guests based upon the pages they have been browsing. For example, the aforementioned 40 year-old mother whom the hotel now notices has accessed the 'hotel spa' page three times could then be pushed a 20% discount on a back massage treatment the following day, the hotel collecting her data to create a unique guest profile and subsequently promote and directly drive revenue on its in-destination services.
3. PERSONALIZATION CREATES A CLOSER RELATIONSHIP 
This personalized marketing inevitably has a positive effect on the hotel-guest relationship, creating a necessarily greater intimacy. It is important for hotels to initiate the messaging process with a personalized message to a guest; this way they are far more likely to receive a response and spark up a relationship. This in turn increases guest loyalty, Boxever claiming up to 7x more revenue per visit from repeat visitors. Perhaps it's time that the hospitality starts prioritizing the retention of its clients instead of forever searching for the new.
CONCLUSION
Essentially data collection and target marketing benefit both hotelier and guest, creating a mutual relationship that allows the former to effectively sell their services thanks to an improved, personalized service for the latter. Perhaps what is most relevant to all this, is that it is the younger generation who are most interested in receiving target marketing as displayed in the diagram below: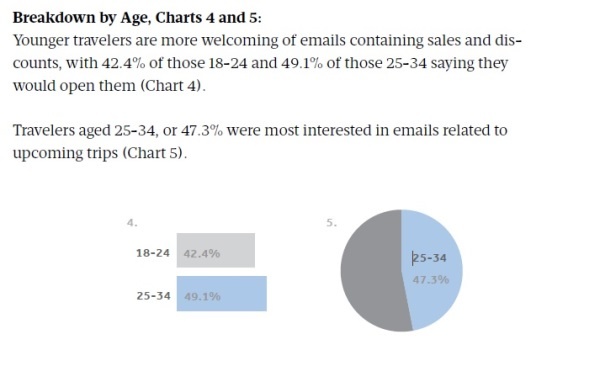 (Skift article)
Literally and metaphorically it seems, building guest profiles in order to market a hotel's services efficiently represents the future of the hotel industry and is most effectively and easily achieved by implementing an in-destination guest engagement application. Proven to invaluably increase guest loyalty which remains ipso facto the "most valuable return on investment" (Dave O'Flanagan, Boxever, Founder & CEO) for the hotelier. Surely it's only a matter of time before all hotels all have the means to personalize experience in the form of a mobile app.
Sources:
http://www.tnooz.com/article/tripadvisor-where-mobile-is-heading/
http://fortune.com/2014/06/19/big-data-airline-industry/
http://www.amadeus.com/web/amadeus/en_1A-corporate/Hotels/Amadeus-LinkHotel/About-GDS-Distribution/1319593371760-Page-AMAD_DetailPpal
Skift report
http://www.buuteeq.com/blog/what-guests-want-now-personalization/
http://www.theguardian.com/world/2013/jun/10/nsa-spying-scandal-what-we-have-learned
Written by LoungeUp
Photo credits: Pexels – Andrea Picquadio